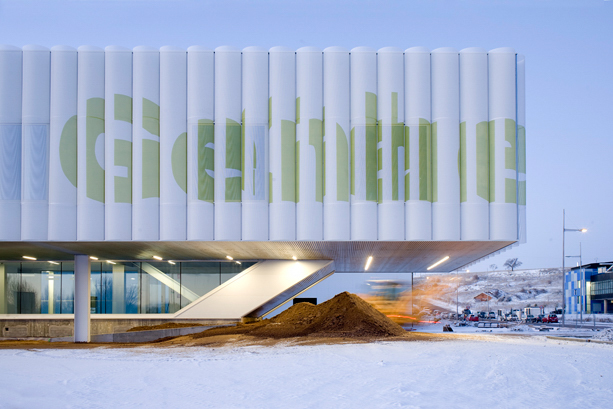 Biopharmaceutical facilities, León (Spain). 2009.
Un espacio tecnológico y pragmático en un mismo lugar. Un edificio que explora las relaciones tecnológicamente sostenibles entre la forma más eficiente, las cualidades de confort y una construcción intensamente reversible, rápida y funcional. Las oficinas como cabeza visible de la empresa se posicionan en el solar en una ubicación privilegiada, dotando a la esquina de referencia de máxima visibilidad. Se valora las dos escalas del proyecto: la visibilidad cercana, más estática y la escala dinámica del AVE a su paso por León.
A technological and pracmatic space in thesame place. A building which explores sustaina- ble technological connections between the most efficient shape, comfort and rapid qualities, re- versible and functional construction. The head- quarters, as the company main visible section, are located in a privileged position within the site, offering maximum visibility. Two scales of the proposal are evaluated: closest view more static and the dynamic remote one from the hi- gh-speed train.